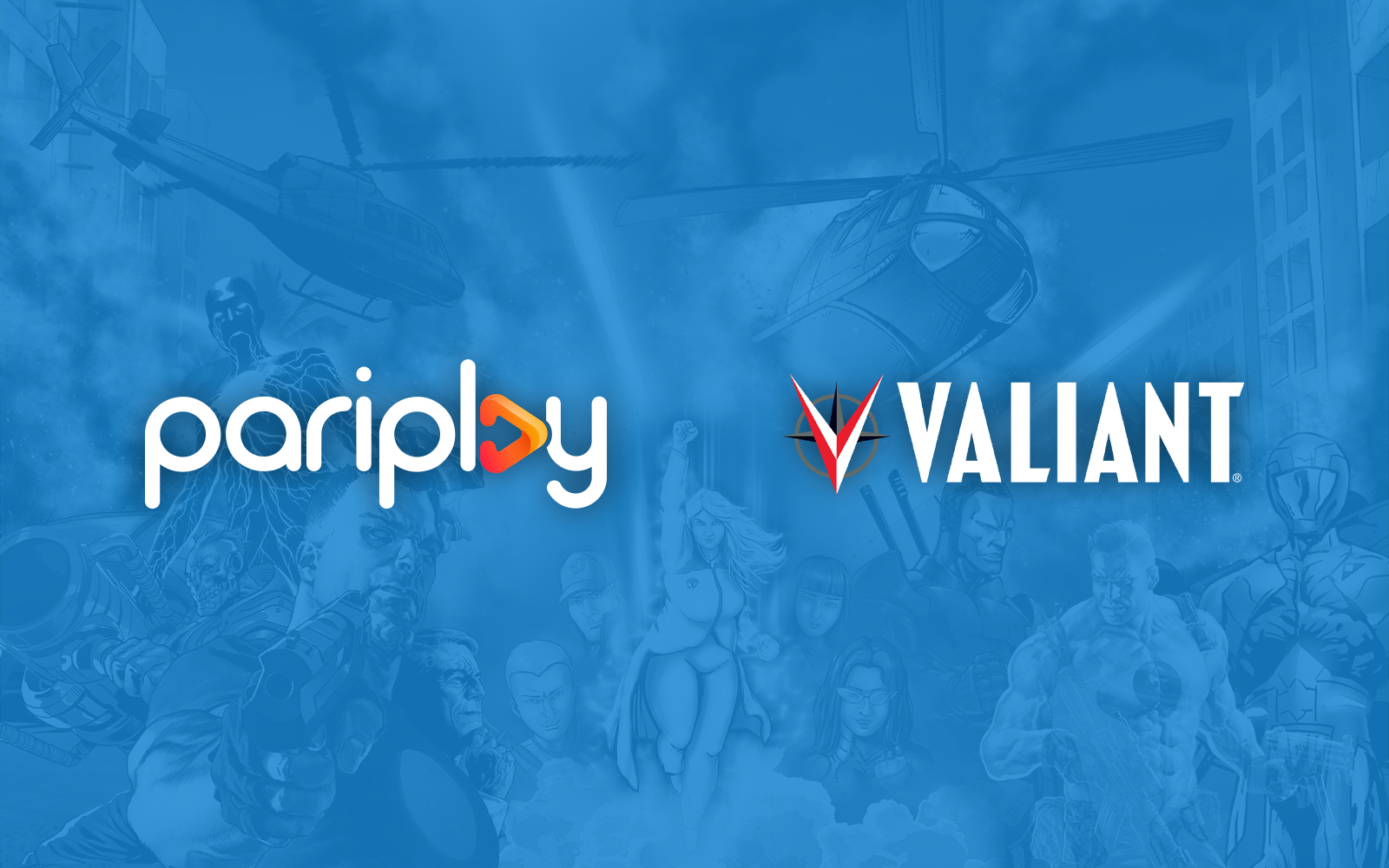 Pariplay Announces Three Year Partnership Extension with Valiant Entertainment
This exclusive deal will see an exciting new range of character-based games to be launched in 2021
December 8, 2020 – Pariplay Ltd., the No. 1 aggregator and content provider behind innovative products including the Fusion™ aggregation platform and the Ignite Studio development programme, has today announced it has strengthened its partnership with the globally recognised and critically-acclaimed New York-based comic book publisher, Valiant Entertainment by adding three more years to their agreement. Through the extension of this partnership, which was originally signed in 2014, Pariplay will add a whole new set of exciting Valiant-branded games to its already impressive pipeline.
Valiant Entertainment was founded in 1989 by a renowned group of comic book creators. Through its story-first approach and cutting-edge team of creative talent, Valiant Entertainment quickly became one of the most recognised and awarded publishers in the world. After catching the eye of DMG Entertainment, a Los Angeles-based leader in global entertainment, Valiant was acquired in 2018. Under the DMG Entertainment umbrella, Valiant's legendary characters have been brought to life and become worldwide franchises, including Bloodshot, whose own live action movie was released earlier this year. A Harbinger movie is also in development, and Valiant's first young adult novel, Faith: Taking Flight, is out now.
Through this exclusive real money games partnership, Pariplay has already launched a range of Valiant-branded games, such as the huge hits Bloodshot, Bloodshot Rising Spirit and X-O Manowar. Moreover, as the ink on the freshly signed deal extension dries, Pariplay has just released another action-packed branded game, Faith, which stars another one of Valiant's popular characters of Harbinger Renegade fame.
The latest agreement adds a whole new level of excitement to Pariplay's pipeline by bringing even more entertaining casino games to its industry-leading portfolio based on an internally recognised set of comic characters. Not only are they an excellent and exclusive addition to Pariplay's suite, but Valiant's branded games will also help support the content provider's ongoing global expansion strategy, by providing players from all over the world with a gaming experience full of thrilling characters and stories.
Russell Brown, President- Consumer Products, Promotions, Media Sales at Valiant Entertainment said: "We are very pleased to be extending our already successful partnership with Pariplay and provide them with even more game content featuring our world-famous comic book characters. Pariplay's far-reaching global presence provides an excellent platform to introduce all new branded games, and we look forward to another three years working together."
Richard Mintz, Marketing Director at Pariplay said: "We are delighted to have this association with a global powerhouse like Valiant Entertainment and are very satisfied with how our partnership has gone to date, so we were eager to extend it. Our players have loved Valiant's branded games, and with their library of over 2,000 characters, the possibilities with them really do seem endless."
For more information about Pariplay's partnership with Valiant Entertainment, contact Pariplay.
---
About Pariplay Ltd.Pariplay Ltd. is the No. 1 aggregator and content provider. With innovative products including the Fusion™ aggregation platform and the Ignite Studio development programme in its arsenal, Pariplay continues to expand its footprint in the global regulated market. Pariplay's Fusion™ aggregation platform focuses on enhancing player value, by providing a suite of back-office conversion & retention tools for operators, plus access to thousands of games from the industry's leading game developers. Pariplay also boasts their own game development studios with a range of 100+ innovative and entertaining slots. The company focuses on building value for its clients through its range of products and tailored solutions.
Founded in 2010, and now part of Aspire Global, Pariplay has offices in Israel, Bulgaria, Gibraltar, Isle of Man and India. Pariplay is licensed and regulated by the Gibraltar Gambling Commission, Malta Gaming Authority, the UK Gambling Commission, Romanian National Gambling Office (ONJN) and the New Jersey DGE. All Pariplay games and systems are certified by the leading testing labs to meet the highest industry standards.
As a business-to-business provider of games of skill and chance, Pariplay fully understands the importance of responsible gaming and has implemented policies and tools within its systems and games to provide industry-leading entertainment in a socially responsible fashion. The system combines identity verification with age verification and geo-Location services to determine whether an individual meets the minimum age requirement and is playing within a specific territory. Pariplay has implemented multiple responsible gaming tools to meet different regulatory standards and have provided players with a sophisticated self-exclusion tool that offers them an easy way to manage their gaming habits.
Contact InformationAdrian Bailey
Managing Director
Pariplay Ltd.
Email: adrian@pariplayltd.com
Website: www.pariplayltd.com
LinkedIn: https://www.linkedin.com/company/pariplay-limited