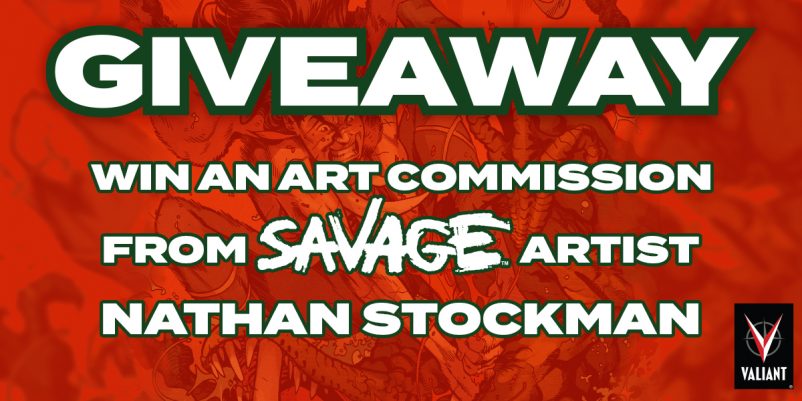 January 4th, 2021 – To celebrate the upcoming release of SAVAGE #1 (on sale 2/17/21), Valiant Entertainment is proud to offer fans the opportunity to win an original art commission by series artist Nathan Stockman!
The rising star artist is packing the panels of SAVAGE with dinosaur-fighting fun, and now he will create a single character commission (11×17, inks and grey tones) for one very lucky and randomly selected winner.
The giveaway is now accepting entries and will close on Monday, January 11th at 12pm EST. The winner will receive an email reply to their entry no later than 5pm EST that day (1/11/21). Entering is simple. See below for details.
Send an email to savage@valiantentertainment.com with the following information…


Email Subject Line: Art Contest
Include the following in the body of the email…
First & Last Name:
Shipping Address:
Single Character Art Request:
In case it helps, here is an example of how an email entry should look.
Email Subject Line: Art Contest
First & Last Name: Ray Garrison
Address: 1234 Dinosaur Dr
New York, NY 10001
Single Character Art Request: X-O ManowarNo purchase is necessary to enter and the single character art request does not need to be a Valiant character (though it would be extra cool if it was). The randomly selected winner will be mailed their commission within three months of being selected. Only one entry per person, entries without all of the information filled out will not be valid.
Feast your eyes on some of Nate's previous single character commissions, below…


Written by the hit musician and critically-acclaimed Max Bemis, SAVAGE #1 will leap into comic shops this February 17th, 2021, featuring colors by Triona Farrell, letters by Hassan Otsmane-Elhaou,and covers by Marcus To, Christian Ward, Stacey Lee, and Giuseppe Camuncoli.